The new build is released! Grab it at the links on the right.

The main three changes in this build are:
1) The long-requested and finally added "off click to close" feature: right-clicking off of a pop-up window such as selecting a character to summon, choosing an item to use, etc. will now, if possible, close the window, just as if you had pressed Escape instead.
2) With thanks to ayayaya on the forums for the suggestion: Bonus MaxHP gained by using abilities no longer degrades over time, instead, it is lost when you take damage: 50% of the damage you take is also deducted from any bonus MaxHP you have. This allows professional drainers to keep bonus MaxHP around without having to micromanage resting/healing. Of course, this rule change also applies to the enemies… on the assumption they have encountered other foes in the past, any character that spawns with a MaxHP draining ability (including even negotiation demands) will generate with some bonus MaxHP added.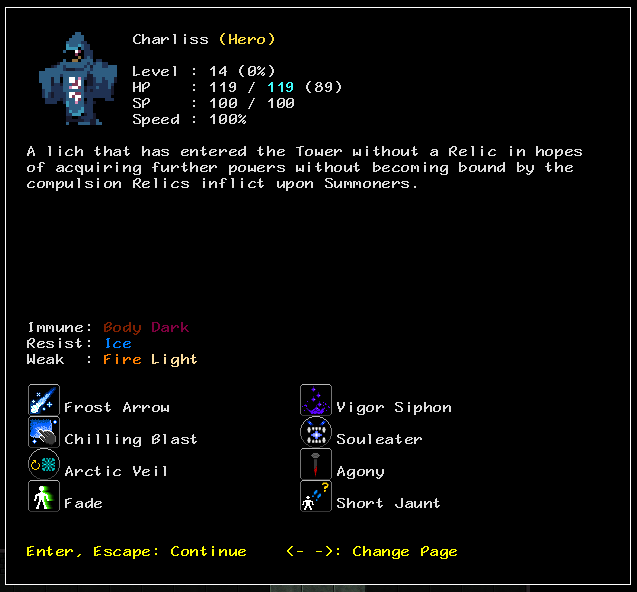 (Yep, even heroes spawn with bonus MaxHP if they have abilities like Vigor Siphon. Remember, you can right-click off his character sheet to close it once you've seen how many bonus MaxHP he spawned with!

)
3) I finally fixed a long-standing issue where if you backed out of training/copy ability at any point, it automatically dumped you back to the neutral interface instead of just one menu back, in some cases. UI bugs are the worst.

But, this one is finally dead! Yay!
And now, I am finally free to get back on to fun stuff, which I will have more to say about very soon! Stay tuned, and good luck in the Tower!